Welcome to Premier Equine Auctions
IMPORTANT NOTICE: It appears that most of the hotels in Lufkin are already getting booked up. We have blocked about 75 rooms at different hotels in Nacogdoches which is about 15 - 20 minutes away. They are holding these rooms till May 20th and the Best Western will only hold them until May 8th. Click here to see the list of hotels. Customers should ask for the "Premier Equine Auction" rooms and rates. We still have plenty of trailer hook-ups at the Expo Center as well.
We are currently accepting horses for our Summer Sensational sale which will be held June 12th and 13th in Lufkin, Texas.
Consignment forms
are posted on this web site. This sale will incorporate a Ranch Horse Competition along with the mixed sale. Our plans are to have the competition in the main enclosed expo arena. This competition will be open to geldings, stallions and mares. Champion Ranch Horse will receive $5000 in cash plus a trophy buckle. Reserve Champion Ranch Horse will receive $2500 in cash plus a saddle pad and the Third Place Ranch Horse will receive $1000 in cash. We will be using 4 judges in this competition. Consignment deadline for the Ranch Horse Competition and the Mixed Sale will be May 1st.
The Demo, Ranch Horse Competition and Sale will be Webcast LIVE during the June Sale - Check back for more information!
2015 Sale Dates
June 12th & 13th
Sept 4th & 5th
November 27th & 28th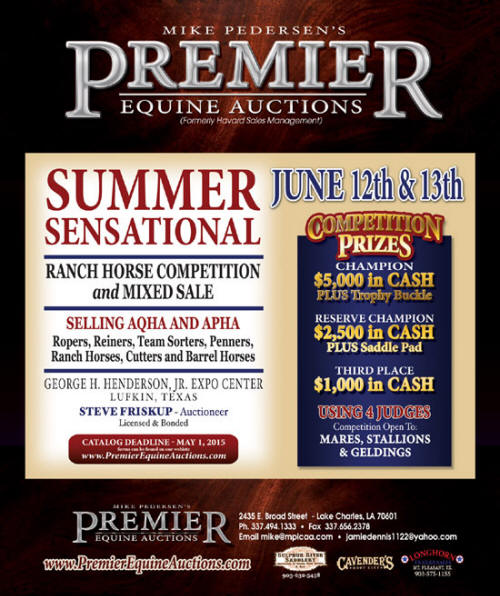 Thank you to all that attended our March Sale. Click here for results.