Welcome to Premier Equine Auctions
Thank you to all who attended our November Sale.
The High selling horse was Hip 20 - RC Showtime Cat a 2011 chestnut gelding by Hydrive Cat out of Playin Acre by Playin Stylish. This outstanding gelding is a finished cutter and was consigned by Brady Smith from Gilmer, Texas. He sold for $18,000 to Randhal Keith Wright of Huntsville, Texas.
The Second high selling horse was Hip 91 - Wanna Reyz Hal a 2010 red roan gelding by Halreycious and he was out of a Grays Starlight mare. This stunning gelding was consigned by West Farms from Pineville, Louisiana and he sold to Jeffery Paul Simon of Winnie, Texas for $17,200. He is a trained cutter and has had reined cow horse training as well.
2016 Sale Dates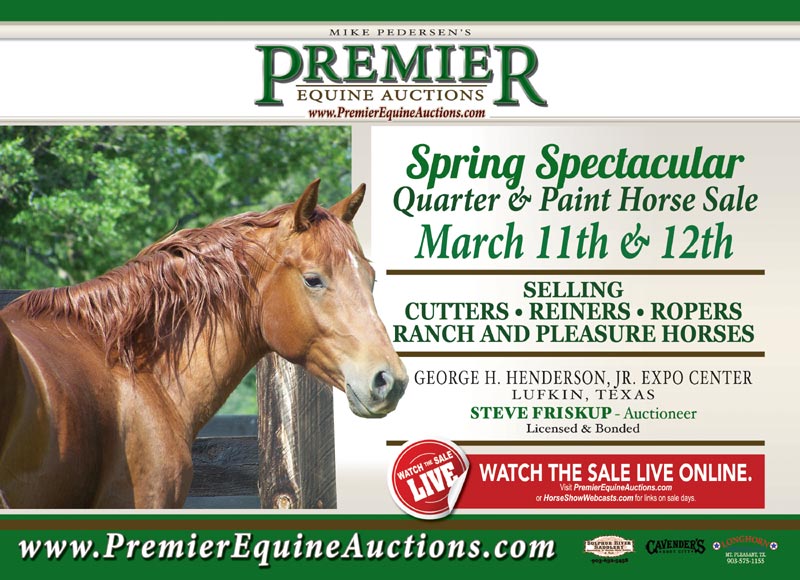 Spring Quarter & Paint Horse Sale

March 11th & 12th
Click here for consignment form
Summer Sensational Quarter & Paint Horse Sale featuring Ranch Horse Competition

June 24th & 25th
Fall Mane Event Quarter & Paint Horse Sale

September 2nd & 3rd
Fall Quarter & Paint Horse Sale
November 25th & 26th